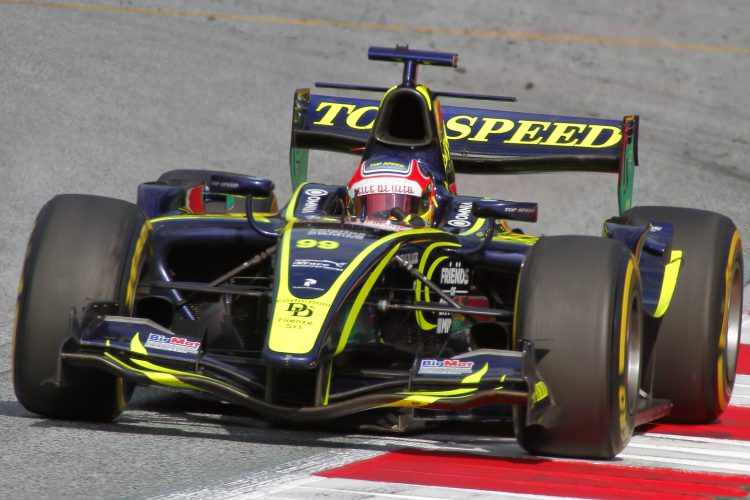 Twin double victory for Top-Speed
There was much to celebrate at the final rounds of the BOSS-GP Series in the context of the DTM at the Red Bull Ring in Styria's Spielberg. Ingo Gerstl has been the overall winner since Brno. But the Salzburger could not resist and also presented himself at his best from the home crowd. Pole position and start-finish victory in both races. The race on Sunday was especially exciting. Ingo Gerstl's Toro Rosso STR1 and American Phil Stratford of Penn-Elcom-Racing in the Benetton B197-F1 led the field for many laps. Just before the end of the race, Ingo Gerstl was able to break away a bit, fixing his twelfth win of the season ahead of Phil Stratford and ahead of Hans Laub of Team Speed-Center in the Forti FG-03 Formula 1.
Top speed driver Florian Schnitzenbaumer came to Spielberg as leader in the Formula Class. He drove in the race on Saturday a pure safety run. His 14 points for sixth place were enough for the overall victory in the Formula Class of the BOSS GP 2018.
Salvatore de Plano from Florence made his debut in the team of top speed. He started on Saturday with the GP2 in promising position, but he did not get very far. He turned after the first corner hand could not continue the race after his excursion into botany. Salvatore de Plano got better at the second race on Sunday. Clear victory in the Formula Class for the Italian in the Top Speed GP2.
Conclusion: Double victory for Ingo Gerstl at the BOSS GP season finale in Spielberg and double victory for the team TOP-SPEED in the BOSS GP Series 2018.